Jayapura, Papua (ANTARA) - Search and rescue efforts were continued on Thursday morning to find the Twin Otter aircraft, with 1.6 tons of the State Logistics Agency's (Bulog's) rice onboard, which had gone missing on Wednesday morning.

Soon after the local aviation authorities gave confirmation of the disappearance of this ill-fated aircraft, bearing registration number PK-CDC RTB, the local SAR Agency began its search operation.

Head of the Timika SAR Agency Monce Brury stated on Wednesday evening that foggy weather had hindered the efforts of the SAR team members, aboard a Twin Otter aircraft, with registration number PK CDJ, to trace the missing airplane.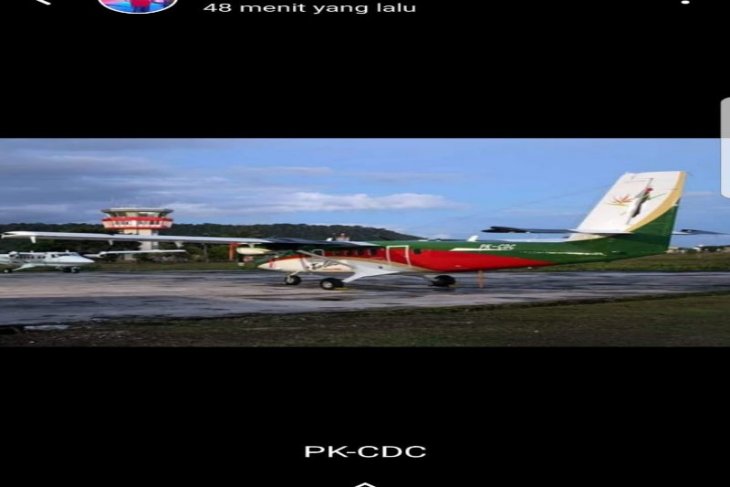 A Twin Otter aircraft, bearing registration number PK-CDC RTB, went missing on Wednesday (Sept 18, 2019) (ANTARA/HO/Dok.istimewa)
Brury remarked that the last coordinate of this missing aircraft was detected some 55.56 kilometers away from Timika, the capital city of Mimika District, while its last contact was reported at coordinates 04 degrees 1'48.32"S/137 and 24'24.50"E.

He noted that the search operation will be continued on Thursday morning.

This Twin Otter aircraft disappeared after taking off from the Moses Kilangain Airport in Timika, Mimika District, en route to Ilaga, the capital city of Puncak District in Papua Province.

Ambar Suryoko, head of the Moses Kilangain Airport in Timika, stated that the chartered aircraft belonged to PT Carpediem.

Related news: Twin Otter aircraft transporting Bulog's rice untraceable in Papua

Head of the Jayapura SAR Agency Putu Agra had earlier remarked that the missing aircraft was piloted by Dasep, who was accompanied by a flight officer, an engineer, and a passenger during the flight for transporting Bulog's rice.

Agra stated that the aircraft, bearing registration number PK-CDC RTB, took off from Timika's airport at 10:36 a.m. local time and was scheduled to land at Ilaga at 11:09 a.m. local time.

However, until 11:35 a.m. local time, this Twin Otter aircraft had yet to arrive at Ilaga, thereby prompting aviation authorities to issue an INCERFA status at 11:40 a.m. local time to notify about an uncertainty phase with regard to the safety of the aircraft and those on board, he stated.

"Until 12:10 p.m. local time, the search operation had yet to successfully locate the missing aircraft, while its fuel would have run out after being airborne for two hours and thirty minutes," he pointed out.

Papua Province has, on numerous instances over the past few years, borne witness to air accidents. On June 28, 2019, for instance, the Indonesian Army's MI-17 helicopter had also gone missing after taking off from Oksibil, Pegunungan Bintang District, Papua Province.

Factors, including erratic weather conditions and difficulties on ground due to inaccessibility to roads, had hindered the search operation for locating this helicopter. Consequently, search efforts were conducted through sweeping aerial operations.

The MI-17 helicopter, bearing registration number HA-5138, with 12 passengers and crew members onboard, had earlier flown to Okbibab to deliver logistics to soldiers serving in the area. Related news: Air Force deploys aircraft to trace disappeared Twin Otter

Related news: Search operation initiated to locate missing Twin Otter aircraft: SAR

EDITED BY INE